When your family is added to MySkillChart, you will receive an email with instructions how to set your password and login. Once you have logged in to MySkillChart, you will be able to view your child's progress, edit your families profile and receive messages from your instructor. If you have more than one child, you can easily switch between profiles.
Skill Charts

To see your child's skill charts, select the star from left hand menu. This page gives parent a clear picture that how their children are performing in their classes. Here, you can see the percentage completion status for the level as well as what percentage of the skills has been attained by their child within a level.
You can also review individual skills to see comments, videos and photos (if any) on their child's skill charts posted by the instructor. Once your child has completed the level, you can download the certificates of the completed level by toggling between the levels and click Certificate icon.
Family Profile
Here, you can edit your personal information as well as add additional children and family members. When you click on your child in the student tab, you will see their classes, instructors, programs and levels.
Screenshot: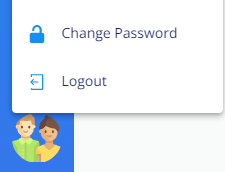 Account
To log out or change your password, you can click on the account icon. If you have forgotten your password, please reach out directly to the admin or instructor. They can create a temporary password for you.